products >> STW 7
This transducer is intended to be used together with the head of an U47 microphone (and similar microphone heads) instead of the original M7 transducer. Assembly with original 32 mm holder or our holder STS7.
On demand we can deliver STW7 with only one connector wire instead of two yellow ones to be installed to M7 capsule.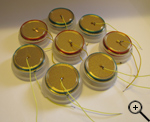 STW7 red line: 250 EUR, STW7 blue line: 280 EUR.
You can order STW7 by email or contact form.
Price apiece + 19 % VAT for EU customers! All prices + postage.